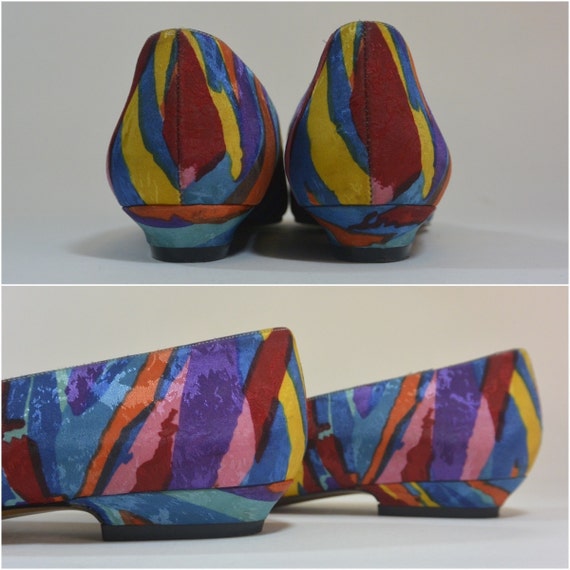 Multi-coloured flats
If like me, you love shoes, chances are you look out for out-of-the-ordinary styles that are attention grabbers, conversation starters and fashion accents in themselves. Wearing these shoes with just a little black dress will be enough of a statement for vintage appeal of substance.
However, being a seasoned online buyer of vintage shoes, I have also had my fair share o
f online shoe
shopping disappointments. And this is not to say that the sellers from whom I bought my shoes were not up to scratch. More often it was because I made very basic and very silly mistakes during the ordering phase. Buying vintage shoes is different from buying contemporary shoes so take heed of these few tried and tested hints to make your own online shoe shopping experience a pleasant one.
1. Don't just go by size. Ask the seller to give you the exact measurements of the length of the insole, plus the width of the insole at its widest point and at its narrowest point. Then do some homework. Take two pieces of lightweight cardboard, and draw an outline of each foot standing flat on each cardboard. Then take measurements of the length of each insole at its longest part and at its widest part. Remember that most people don't have identical insoles and that is why you really need to take measurements of each plantar sole.
2. People seem to have had smaller feet in the past, certainly narrower ones. This is why you really need to check the actual measurements of shoes you are going to buy.
3. Shoe sizes differ between those sold in the US, in the UK and in Europe. Don't assume that the seller really knows how to convert these sizes. Things become somewhat complicated when a shoe size does not show on the shoes themselves. Again, the shoe measurements come in handy.
4. It's better to have a slightly larger shoe than a slightly smaller one. You cannot overstretch small vintage shoes as these tend to break. But you can insert a thick insole into a slightly larger shoe, to allow a proper fit.
5. If you are selling vintage shoes online, make it easier for buyers to buy your shoes by always including measurements of insoles and you must measure these from the inside of the shoe. For boots, take approximate measurements and add an inch lengthwise.
6. Buy Vintage shoes only from sellers who are able to supply you with crystal clear images that show detail such as the condition of the insoles, the condition of the soles, the condition of the heels and condition of any part of the shoe which is sewed together.
7. Be Warned - be
prepared to f
ind that really old shoes are likely to break open and come apart especially since old glue will crack and lose strength over time. Resign yourself to the fact that really old shoes are only fit to sit in a museum.